Customized solutions
Did you know that Loxy can customize your reflective and seam sealing tape products?
As the words are saying we can do what ever the customer wants.
Do you want your own brand or logo as holographic design on your workwear jacket? Or what about reflective piping on the running jacket or backpack?
Engraving of LOXY reflective materials, for individual customer needs. The possibility of marking the tape and transfers with your own company logo, personalization of clothing as well as preparation of patches, laser or die cutting.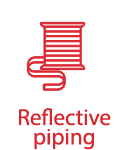 For decorative purposes
LOXY® piping
AS Loxy Group is a producer of reflective material, we also provide a lot of different piping for garments. Our reflective piping is made of any LOXY® reflective tape, used as a filling of the edges of bags, backpacks, jackets, prams, car upholstery, furniture industry and many others.
The purpose of piping is to make the seam strong and reduce seam slippage. In bags and cushion cover edges, piping is a common use.