LOXY® reflective and flame retardant products and solutions
LOXY® reflective solutions meet the toughest industrial standards.
Our reflective materials come in all the shape and sizes you need. They are made to be heat pressed or sew into place. Once applied, the tape stays. Our tapes have one thing in common, they will stay reflective.
Our flame retardant reflex, designed to give maximal protection.
Our reflex is suitable for applications for fire rescue personnel and technical rescue clothing and equipment. LOXY® Rex 9801 does have certificates according to EN 469, EN 20471, NFPA, Ökotex and more.
Key Features:
Flame retardant
Reflective
Durable
Tunnel finishing
Industrial wash at 75°C
SEW-on application
Pocket: "Window-film" –made of a special PE that is 0.300mm thick and it replaces the PVC used in the past for such pockets
The best soft quality suitable for flame retardant workwear.
This flame retardant heat on transfer logo provides a durable and reliable base for your logo. Also available in High Definition (HD) Digital Print when you have complex artwork containing colourful gradients and photographs. Certificates according to ISO 6330, ISO 14116 and ISO 15797
Key Features:
Flame retardant
Durable
Solid colour
Domestic and industrial wash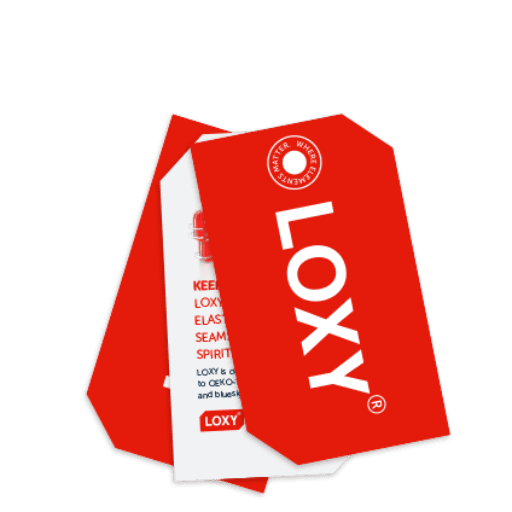 LOXY® hangtag –our promise of reliability
Hangtags by LOXY® – its our promise to you, that the LOXY® products means quality and you can rely on us.
The quality commitment by LOXY® means Quality Assurance, Inspection upon delivery at warehouse, fully supervision and digital documentation, testing at laboratories in Asia and Europe and of course all our technical support and follow up.